Our Calm Corner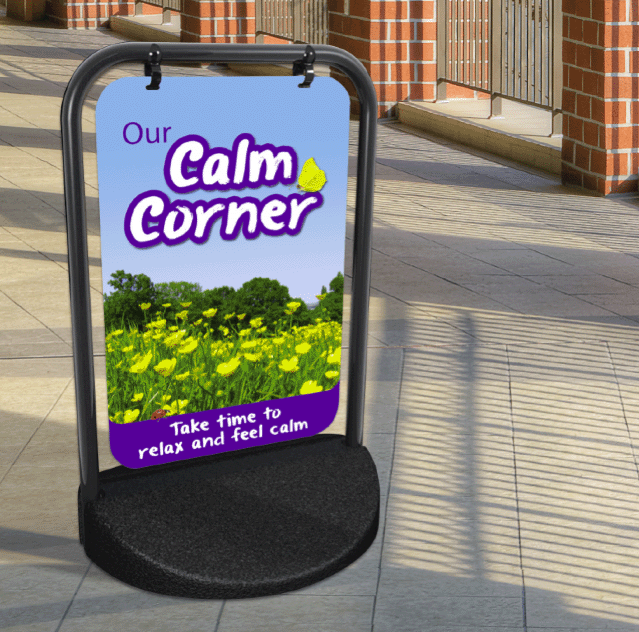 Description
BRAND NEW!
Life's been stressful for everyone but coming back to school and rediscovering social skills can make the playground a daunting place. This new set of products is designed to create a focus for a calm area where children can go to calm themselves and reconnect when tempers have flared or they feel anxious. 'Choose from eight simple techniques that help children relax and regain self control" For example "Count as high as you go - "Counting requires a child to use the prefrontal cortex - the "thinking brain". Activating the thinking brain helps calm the highly aroused "emotional brain", switching off the stress response, so they feel calmer and more in control again".
Available in several configurations to suit your setting requirements:
1. Double Sided Swing Sign  
Large, freestanding sign with recycled, weighted base. Panel size 50cm x 75cm.
Normally £159 Offer price £149 SAVE £10
2. Corner Wall Sign Set - comprising two landscape format wall signs
Medium two panels each 60cm x 42cm
Normally £88 Offer price £68 SAVE £20
Large two panels each 80cm x 64cm
Normally £168 Offer price £138 SAVE £30
3. Standard Single Wall Sign
Medium 60cm x 42cm
Normally £44 offer price £34 SAVE £10
Large 84cm x 60cm
Normally £84 offer price £69 SAVE £15
Jumbo 120cm x 84cm
Normally £149 offer price £129 SAVE £20
Earn
0
reward points with this purchase
Add This Product To Your Wishlist
The item has been added to your basket